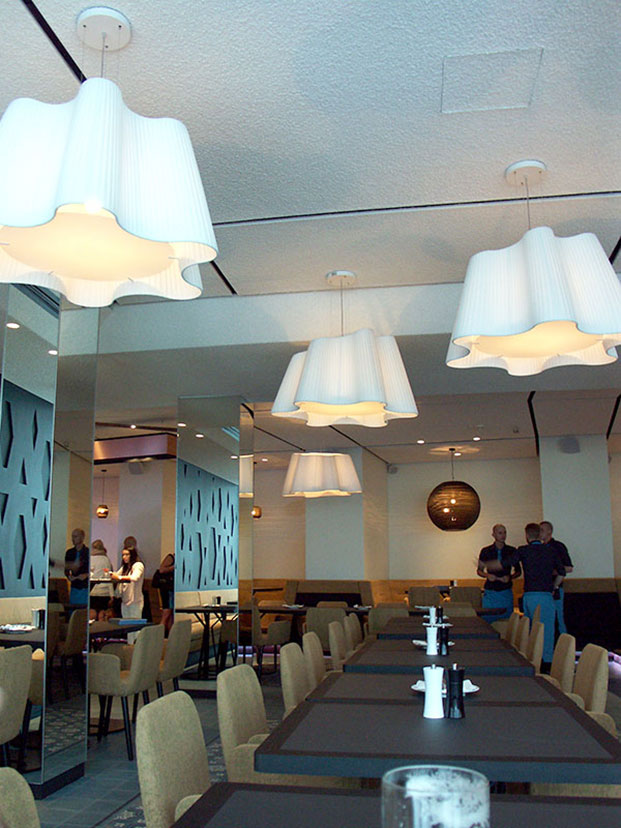 The Sofiensäle. Some of us might have vivid memories of one or more boozy evenings and nights at this special place. Growing up around the corner, sharing the same name and having witnessed Johnny Depp playing a gig with his band "P" in its historical ballroom, I cannot deny that my heart jumps a little at the fact that 13 years after almost being destroyed in a fire, this seemingly unwanted piece of Viennese history has finally found its new face – and what a stunner it is!
The façade, the foyer and parts of the famous ballroom that were resilient to the flames that burned most of the place down in 2001 have been restored and reborn as rental apartments, a unique hotel and bar (that opened this spring) and the stylish new restaurant "The Room" in the right arm of the building.
And The Room is what we were lucky enough to have a sneak peek of before it's official opening. Here's how it went down …
After gawking at the beautiful façade some more, we duck into the newly built extension on the building's right wing. This new addition to the Sofiensäle represents it's transition from old to new, with its steel-framed glass windows, low ceilings and a state-of-the-art interior decorated with geometrical patterns. At first, we have a hard time closing our mouths and keeping our eyes on anything in particular.
A few neatly dressed people are already there, sipping on drinks at the stylish bar – black paint and blue neon lights framing distinctive geometrically formed holes – a dark niche within the otherwise bright room. But already, what demands my attention the most is under my feet – the mosaic Moroccan tiles on the floor that give the whole – rather neat, sharp and handsome look of the bar and restaurant – an edgy touch. I can't stop staring at them, having to feel them with my bare feet and taking an endless amount of pictures.
When nobody's looking, I bend down and stroke them with my hand. Not even inside for more than a breath, a waiter approaches us with a huge smile and shining eyes, handing us a menu and asking for our drink choices. We sip on our Vodka and beer and try to mingle, but we end up mingling more with the place than the people.
The narrow entry leads to a wide and open room with a row of tables and a glass front at the end that gives you a view onto the street Blattgasse – a small and calm street. This allows one to feel exposed, but not enclosed. The beige bench sofa's make me want to curl up on them in a pair of high heels.
Our waiter sticks with us all evening, taking care of us as if he is the concierge in a 5-star hotel and we are Brangelina (despite my sandals and tote bag). It's lovely. We could get used to it. He asks us for our food choices and indecision breaks out – everything on the menu makes our mouth water. But in the end we go for the Schinkenfleckerl and a Steak.
When I tell the waiter about my garlic intolerance he panders to it like a pro. Both choices are solid. I still prefer my mother's Schinkenfleckerl (Hi Mum!), but the price of 10 € tells us, it's probably not the specialty of the house. The steak is a little too done, still a fine piece of meat, but what surprises us is the side dish of ordinary looking potato croquettes that usually evoke distant memories of visits at my aunt's place and deep-frozen, pale yellow sticks. But the ones right here are freshly mashed and fried – we devour each one of the three pieces. Delicious.
The restaurant The Room is posh and primp. It's bound to become a distinct part of the new personality of Vienna's 3rd district and the Marxergasse-Quarter where a slow but sure makeover is underway.
Get content that you love in your inbox!
Hey, look at this similar content we made for you