When first moving here over a year ago, I was full of the same stereotype-filled anxiety many have about living outside Vienna's inner districts: I'll be cut off, stuck in the boondocks in a boring, run-down area with nothing going on. However, my expectations have been flipped upside down.
Here are 15 (+4) reasons that make the 15th district Vienna's most exciting, dirty little secret.
Here's a map to help you explore all the places featured in this article:
1. The 15th district's verve
The 15th has got attitude, like a young, rebellious teen finding themselves while living at their grandparent's place. The fifteenth's infamous reputation as a sort of derelict outpost has been earned in the past, and some of this notoriety stems from the time prostitutes roamed the now-clean Felberstraße. But happening out here now in this changing neighbourhood is a clash between culture, the old and the new, the crumbling, abandoned old buildings and the new gentrifying breath of young, fresh business. Grand old Gastwirtshäuser, such as Heidingers Gasthaus (Selzergasse) jostle for position with eateries boasting fantastic Turkish (Kent and Diwan on Märzstrasse), and Balkan (Konoba Pescaria on Goldschlagstraße) cuisine.
The faded tiled façades and murky concrete grey buildings around the Äußere Mariahilferstraße, for instance, or the low-slung, pokey stalls of the vastly underrated Schwendermarkt somehow seem to work, in their own way. There's a whole new fresh vibe developing in the 15th, as imaginative people recognise this young, restless district's potential.
2. The name
The name, Rudolfsheim-Fünfhaus, is double-barrelled and has a old-world charm ring to it. It just sounds like a throwback to a bygone era, like it should be some old monocle-wearing baron, doesn't it?
3. The multiculturalism
With 49% of its population made up of migrants, Rudolfsheim-Fünfhaus is one of the most culturally diverse of Vienna's districts. Don't believe me? Pop into the Meiselmarkt for lunch.
And like with all multicultural neighbourhoods come diverse grocery shopping opportunities. One of our favourites is the Thai food speciality store Talad Thai (Schweglerstrasse 19, 1150) where you can pick yourself up all the hard-to-find herbs, and other ingredients of the South East Asian kitchen. Märzstraße also hosts a prominent, garish Russian grocery shop and a few Polish stores. While, most notably, the Turkish have made their mark on the district with their meat-heavy tasty restaurants, and some Turkish bakeries.
Turkish bakery we'd recommend
Özkaya
Where: Meiselstraße 22, 1150
On the corner of Johnstraße, not far from the U3 U-Bahn station, is a fantastic Turkish bakery loaded with breads, böreks and cabinets full of Turkish sweets, from baklava to biscuits.
4. It's young, it's hip and it's changing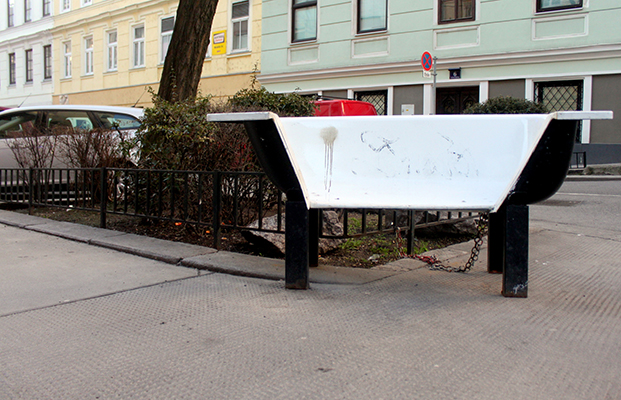 Define young: The cheap rent is attracting students and young creatives more and more. It's the lowest-earning district in terms of GDP per-head, and accommodates this with a range of cheap shopping opportunities. For now, creeping gentrification is kept at bay, but it's moving at Vienna's slow pace. Nevertheless, its chic, grungy, rough-and-ready vibe remains relatively untouched.
Define hip: Not hipster, like the 7th, but the 15th district is accidentally hip and ahead of the hipster curve. There is a steady stream of new places opening which see a scattered, unique brand of hip organically growing around the 15th. Just check out the various places mentioned in this article!
Can you spot… the bathtub made into a street bench, and the numerous street-side urban gardens.
Define changing: alongwith the monthly popping up of new places, there are plans to reinvent the iconic Wasserwelt – an artistic attempt at a series of fountains which reflect another reason why everything from the 90's should be forgotten. You'll find it in front of the Rudolfsheimer church on the concrete communist-looking Kardinal-Rauscher-Platz. Also, there are frankly exciting plans to turn Goldschlagstraße into a traffic-free bike super highway.
5. Gasthaus Quell
Where: Reindorfgasse 19, 1150
Opening times: MON–FRI: 11am–12am
Diners keep flocking to this most beisl-y of Beisls, with dark, wood-panelled interior that looks like it has been untouched since 1937, serving nevertheless fantastic Viennese Küche that's renowned throughout the city.
6. It's outside, but well connected
The 15th district possesses one of those beautiful characteristics that sees Vienna voted as one of the best places in the world to live – it's well-connected in terms of public transport. Even though it has the rent prices of an outer district, you can be in the inner district (and most places in the city) in no time. It's located right behind Westbahnhof, and the U3 U-Bahn line runs through it, alongwith various other tram and buses services.
7. Hawidere

Photos by Daniel Dutkowski (www.dutkowski.com)
Where: Ullmannstraße 31, 1150
Opening times: daily, 5pm–2am, food is served until 10pm
In its fourteen years of existence, the slightly hidden Hawidere in the 15th District has turned into quite an institution. The beer and burger restaurant is a typical Viennese Gasthaus with a twist.
Besides the lush and inviting Schanigarten (complete with self-grown tomatoes in beer crates), the interior will have you discovering plenty of fun, subtle details (we advise you go looking for the Craftkammer). Hawidere is known for its mouthwateringly delicious and multi-layered burgers, and its vast and equally mouthwatering craft beer collection.
8. Das Augustin
Where: Märzstraße 67, 1150
Opening times: MON–THU: 4pm–12:30am, FRI: 4pm–1:30am, SAT: 9:30am–1:30am, SUN: 9:30–12:30am
Unassuming from the outside, its mint green door is the only clue to its existence. This hipster hangout in an Austrian Gasthaus' body has earned its fame in the last couple of years for its generous weekend breakfasts. Once inside, you'll be pleasantly surprised. It's an Aladdin's cave of dark wooden panelled walls, and slightly mismatched, but homely, furniture. And if you like the cosy interior, you'll love the Schanigarten. Enclosed by an inner courtyard, it feels like an escape from the world outside. The sun also hits it perfectly in the morning. Occasionally, there are also live music acts held here in the evenings throughout the week.
We also recommend… scoffing some free bonbons from the jar as you're leaving.
9. Café Z
Where: Meiselstraße 2, 1150
Opening times: TUE–WED & SAT: 10am–8pm, THU & FRI: 10am–10pm; SUN–MON: closed
Once a much-loved, yet dark and dingy pastry shop, Café Z reflects exactly how people setting the zeitgeist in Vienna are doing so in the 15th. The owner, who's a 15th district native and saw her neighborhood's potential way back, has preserved the old retro charm of the café, yet given it a crisp, inviting modern attitude, and has managed to do all of this without alienating the Stammkunden, leading to the young and old mixing here. Filled crepes and breakfasts dominate the menu here, while there's still delicious Austrian cakes in the counter cabinet, which are produced next door by the former owners. The Schanigarten, spreading out in summer on the square out front, also possesses an atmosphere as special as the inside.
10. The rise of Reindorfgasse
Reindorfgasse is developing into somewhat the heart of the 15th district. And in our (not so) humble opinion, this is one of the best streets in Vienna.
Places we'd recommend visiting on Reindorfgasse
Mafiosi
Where: Reindorfgasse 15, 1150
Opening times: daily: 11am–12am
Grab yourself an ultra-cheap pizza at Mafiosi, where a Margherita will set you back a mere €3.20. If this astonishing value for money isn't reason enough to visit, there's also a waiter who looks remarkably like Steven Segal in this creepy log-cabin-looking pizzeria legend.
Fix Dich
Where: Reindorfgasse 44, 1150
Opening times: TUE–FRI: 12pm–7pm, SAT: 11am–5pm
At this multipurpose place with its brilliant name, there's women's clothing, bikes and a funky small café with a vegan focus. The two tables that make up the café are by big windows looking out onto Reindorfgasse. There's coffee and soup and next door bikes and bikes, and more bikes are sold, along with some cool vintage cycling jerseys. Anyway, I reckon it's worth going just for the glorious name. Whoever thought it up, deserves a medal.
Improper Walls
Where: Reindorfgasse 42, 1150
Opening times: WED–FRI: 3pm–7pm, SAT: 12pm–5pm
This small, indie art gallery is a favorite of ours. The polished concrete box of a non-profit gallery, with its relaxed atmosphere, acts as a creative space run by a few, young artistic souls. In this creative space, small artists of all breeds – from street art to graphic design and so on – are given a platform.
froff boutique
Where: Reindorfgasse 10, 1150
Opening times: Check out the event program, here.
Run by a friendly crowd, this grassroots concert venue reminds us of a child's tree house, somehow. The intimate space hosts a range of performances, including plenty of music acts, drawing in eclectic, youthful crowds. For the program, see here.
11. All roads lead to… Sparkassaplatz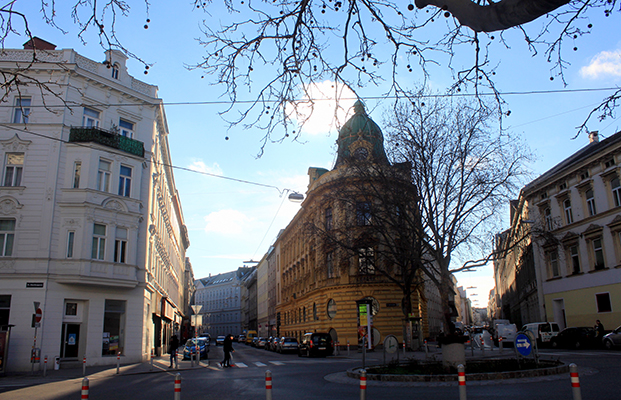 All roads in the 15th lead to Sparkassaplatz. Ok, not all of them, but not far from Reindorfgasse and Sechshauser Straße is Sparkassaplatz, whose name comes from the former bank that was housed in the big, yellow building overlooking the square. Again, this area wears its cloak of shabbiness without shame, lending it a special charm. Essentially a quiet roundabout, Sparkassaplatz has come to embody the je ne sais quoithat characterises the area.
Sparkassaplatz's main attractions
Café Prosa
Where: Sparkassaplatz 3, 1150
Opening times: MON–THU: 10am–6pm, FRI: 10am–11pm, SAT: 6pm–11pm
Café Prosa protests the pressures of capitalist consumption, hence their pay-as-you-wish policy. It's also become a place offering counselling support and education for asylum seekers. Within this personality, they host all kinds of cultural events, like screenings and music acts. For more details on their projects, see here, or visit their Facebook page.
Café Eduard
Where: Sparkassaplatz 1, 1150
Opening times: MON: 4pm–12am, TUE–FRI: 7:30am–12am, SAT–SUN: 9:30am–12am
On the other side of the street to Café Prosa is the polished, clean-cut Café Eduard, a sibling of the older Gasthaus Quell just up the road. Eduard is known for good coffee and food (modern fusion of Austrian cuisine) and in summer it has a charming Schanigarten out front under the shady trees of Sparkassaplatz; the perfect spot for that relaxing springtime coffee, or their hearty breakfast.
dieLichtfabrik
Where: Sparkassaplatz 3, 1150
Opening times: See the website for details, here.
This crowds claim to fame is their creativity. The creative agency's dieLichtfabrik's base in the 15th is an art and social space shared with the crowd making cool things (including furniture) out of cardboard, Designstudio Papertown. The space used to be an old printing shop, yet now holds all kinds of workshops, pop-up stores and other artistic projects, with a focus on social causes. It's the kind of place that has an open door policy, where you can walk in anytime of day and 90% of the time end up in an interesting conversation with somebody. You can also make yourself a coffee and take a seat, for a small donation.
12. Auf der Schmelz
Despite the semi-permanent fug of dope smoke hanging around, the Schmelz forms a central fulcrum of the area; dog-walkers, young lovers, fitness freaks and runners alike can be seen using the green corridor between, and around the Sports University and garden huts. We feel fit and healthy even when just sitting on the park benches. All in all, the Schmelz is, as the name indicates, a great place to chiiiiiilllll, man.
What's Sch-moking in the Schmelz?
Schutzhaus Zukunft
Where: In the middle of the Schmelz (enter through Guntherstraße, 1150)
Opening times: daily: 9am–12am
The jewel in the crown of this park is the Schutzhaus, a place with one of the best beer gardens in the city, and where to eat Austrian food in huge proportions. Surrounded by the hundreds of garden house huts, walking here is half the experience. They also have a program of live music (think Austrian music you'd hear in a Scheehütte) and a monthly flea market hosted here in summer.
13. The many markets
The 15th hosts a number of lesser known, yet worth-your-while markets
Meiselmarkt
Where: Hütteldorferstraße 81, 1150
Opening times: MON–FRI: 9am–7pm, SAT: 9am–6pm
While it looks trashy on the outside, don't let your preconceived ideas get the better of you when it comes to this colourful permanent indoor market. With a history behind it that still stands in the impressive stone entrance that can be seen from the outside, the Meiselmarkt is a strange mix of a place unparalled in Vienna. While the upper floor plays host to the regular shop chains, pay particular attention to the ground floor, where you'll find bustling vegetable stalls, butchers with smoked legs of pork hanging from the ceiling, shops selling those hard-to-find exotic goods, and a number of traditional Beisls that have survived the test of times with their long-term Stammgäste throwing back beers and puffing on cigarettes out front.
Schwendermarkt
Where: Schwendergasse, 1150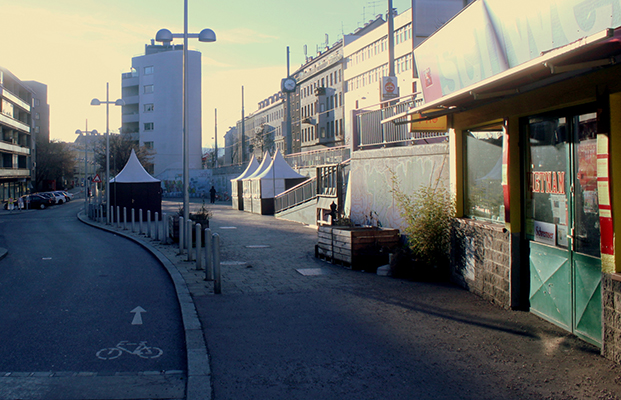 The small Schwendermarkt, situated street-side on the outer part of Mariahilferstraße, is scandalously underrated. Besides the butchers and exotic grocery shops are some seriously interesting places popping up.
Highlights
Palme13
Where: Schwendermarkt 13, 1150
Opening times: Keep an eye on their Facebook page for details. Their opening times are changing regularly.
The unique, relatively new, Palme13, is run as a co-operative by a bunch of socially conscious people. It's not really sure what it wants to be when it grows up, and walking in the place, you'll have trouble defining what it is yourself. A bar? A café? A fine food and wine shop? Nevertheless, it's already become popular for all kinds of events, including a current series of cooking workshops run by asylum seekers. Keep an eye on their Facebook page, for details.
We love… the custom-made wooden kitchen, which is a pop-up, moveable kind of construction set on wheels.
Viennas Vietnam
Where: Schwendermarkt 10–12, 1150
Opening times: MON–FRI: 11:30am–9pm (on the weekend it's closed)
With a real authentic atmosphere and flavor to the food, this tiny Vietnamese eatery is well-loved by the locals, and well-known by lovers of the Vietnamese Pho and noodle specialty dishes.
14. Cycletopia
As mentioned, the city has plans to make a car-free, biking highway out of Goldschlagstraße for cyclists heading in/out of the west of the city. And with the likes of Fix Dich (as mentioned above) and the following two-wheeled temple, the avid biker is at home in the 15th:
Velobis
Where: Johnstraße 1–3, 1140
Bistro opening times: TUE–SAT: 5pm–12am
Bike repair workshop: TUE–FRI: 10am–6pm, SAT: 10am–1pm
Housed in the site of the former Gloriettekino (Johnstraße/Linzer Straße junction), Velobis is an example of one of these places making the 15th face of the changing Vienna. The very friendly Nigerian owner, Anthony, has been in the bike trade for years, but now he's combining all of his passions in one space – food, culture and bikes. In a huge, airy space he's combined a bike store and repair shop, offering one of the best bike services in the city, along with a restaurant-cum-bar. The restaurant has a talented renowned chef in the kitchen fusing Austrian, African and other European cuisine, while the bar has a good range of craft beer. Anthony also plans to also hold regular cultural events here (keep an eye on the Facebook page for details). Velobis is a place on the rise.
15. Sechshauser Straße
A tale of two sides: as this street edges towards the periphery of the city and on towards Schönbrunn Palace, the 15th district sheds its urban, rough visage and gradually gives way to a wider, boulevard-like look. This route serves as one of the district's main thoroughfares, and as such, has a number of interesting shops and museums in its vicinity.
A must see just off of Sechshauser Straße
Brick-5
Where: Fünfhausgasse 5, 1150
Opening times: Keep an eye on their Facebook page for updates on the events.
This old factory, turned museum/gallery/studio/event venue/general creative space, is another of Vienna's success stories in which old, run-down real estate has been reborn and reinvented. Often holding events, from markets to theatre, this place is run by a Verein (NGO club) passionate about multimedia art and new ideas.
16. The romance of the rail @ Westbahnhof
Where: Europaplatz 2, 1150
I have a confession: I'm in love with this train station. How can somebody be in love with a train station, you ask? It's so airy, so vast with its huge windows letting in streams of light and opening the place up to a view of the city, which says "you've arrived". It gives me the impression of importance and grandeur every time I go inside. I challenge you not to look up at the columns and ceilings, or pine wistfully as the trains pull away from the long platforms to their various exotic destinations, you know, like St. Pölten. Seriously, Westbahnhof embodies everything that's good about 1950's architecture, and the recent refurbishment has remained sensitive to its strongpoints. It still has its charm, and now you can go shopping there. And a little secret – a strange romantic kind of atmosphere can be witnessed here at sunrise (looking out the front windows from the upstairs floor) and sunset (from the end of the platforms with a view out onto the tracks scrambled below the bridge).
17. Auer-Welsbach-Park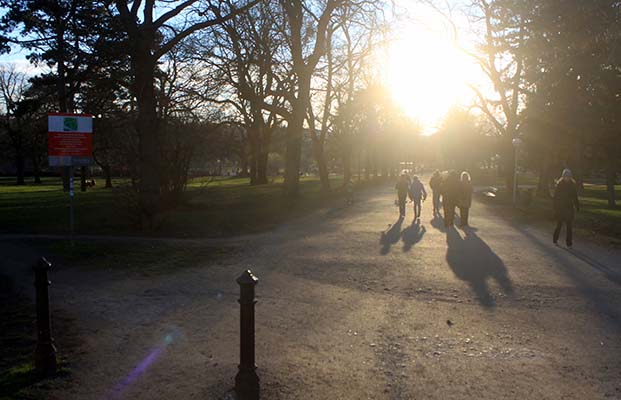 Where: Neu-Penzing, 1150
The Auer-Welsbach-Park is a unique green urban oasis, and a great spot for a morning run. There's even some free gym equipment and table tennis tables attached to the moderately adventurous playground, if you're so inclined.
18. Café Weingartner
Where: Goldschlagstraße 6, 1150
Opening times: daily: 9am–12am
This is a one-of-a-kind Viennese coffeehouse. While it looks like the kind of place that's too fancy to serve beer, it does… on a silver tray (we're not kidding). Attached to the coffeehouse section of the place serving the typical coffeehouse menu, they have a sweeping room housing 3 big billiard tables. The old score boards can be found on the wall, along with a bunch of other antique features which will have your eyes wandering like when in a museum. This is certainly a unique place worth checking out.
19. The world looks different from the 15th bridge, Schmelzbrücke
Connecting the two distinctly very different sections of the district over the cleft of the Westbahn railway station is the Schmelzbrücke. It seems to hover majestically there. This is a special place in the city for many, including the big-name British, Vienna-based musician, SOHN (check out why he has an affection for the bridge in the interview, here). Standing on it offers a great view over a scene rarely witnessed in Vienna: a metal, rusty, smoking industrial scene.
Get content that you love in your inbox!
Hey, look at this similar content we made for you