What we're saying is – a lot of money lives there. But while the mansions are plentiful, so are the idyllic green spaces (did we mention it backs onto a forest – Wienerwald) to escape to, alongwith the vineyards bearing grapes that end up in the Heurige (wine taverns) as wine being guzzled by the litre alongside glorious Austrian food favourites – what we're saying is, the 19th has a lot to offer… including many opportunities to escape the city life, while staying within city limits.
So here's 19 reasons to love Vienna's noble 19th district like that rich friend you hang around with so you can spend time at their big ass house.
1. Grinzinger Heurigen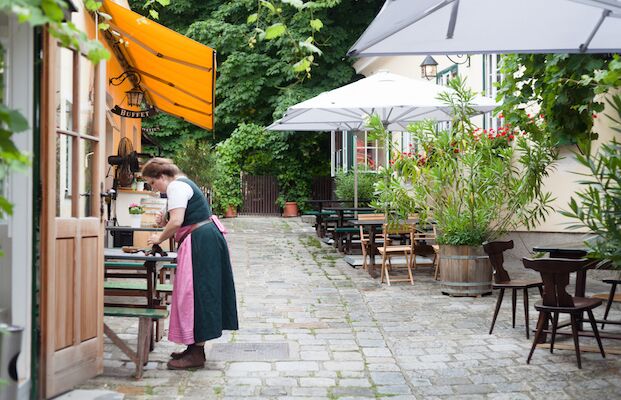 The main reason most end up in the 19th district is in search of the charming Heuriger (wine taverns) of Grinzing. Ahhh, there's nothing like a good day of Heuriger hopping, especially in Spring or summer. These places have a special place in any Austrian's heart.
Grinzing is like the Las Vegas for Heurige, pulling bus-loads of tourists that are seeking a genuine taste of these Vienna's temples of wine (or the staged version of it). Saying this, many genuine Heurige still can be found where the wine is cheaper than the water on the menu. We particularly love the Heurige hidden in amongst the hills of vineyards.
By definition, a Heuriger is an "Austrian establishment where wine from the latest harvest is served." Very traditional ones will stick to a very simple menu, with just a few bits and pieces to make up a Austrian-style antipasto sitting in a cabinet. However, most Heurige, including a good part of the ones in Grinzing, will have a limited but satisfying list of warm dishes lined up in a buffet. If you see Kümmelbraten (cumin coated roast) in any of them, don't think twice!
2. The Japanese garden: Setagayapark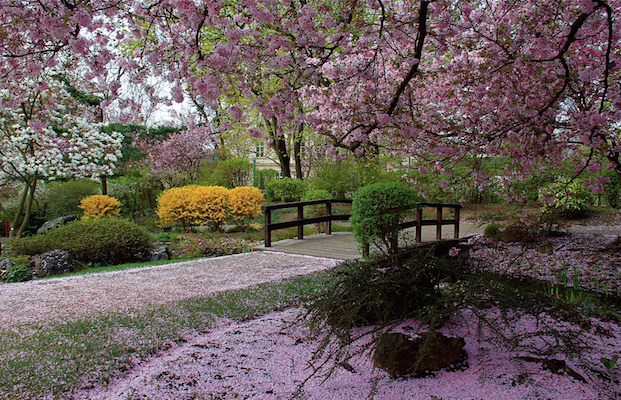 Located in the outskirts of Vienna is a Japanese garden called the Setagayapark park (we bet a whole lot of you didn't know that!) On any given day, the park is the perfect place to seduce a romantic date, or just take in the tranquility whipped up by the Japanese who tend to have a way with Zen. The park is incredibly peaceful with its watterfalls, ponds, stones, bamboo sculptures, the odd furry animal and harmoniously planted flower arrangements. There is a certain quietness in the air that lets you stop and take a little break from your day.
Plus: Watch out for the turtles that have been known to make several escape attempts in the recent past.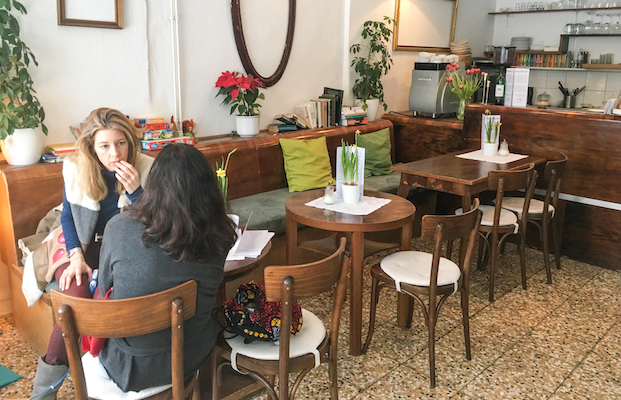 Where: Sieveringerstraße 116a, 1190
Up so very high, on what seems like a far away hill, sits a quaint little cafe, playing quiet jazz music, and serving Fritz Cola, soy lattes, freshly made Gugelhupf (it's a kind of cake! – your ignorance to the bakery world astounds us), and crepes. The vibe is rustic and comfy, the staff is friendly, and once you sit down, you'll find it hard to get up again.
Plus: breakfast is served all day (served until 5pm)
4. Wandering and wondering in the Wienerwald (Vienna Woods)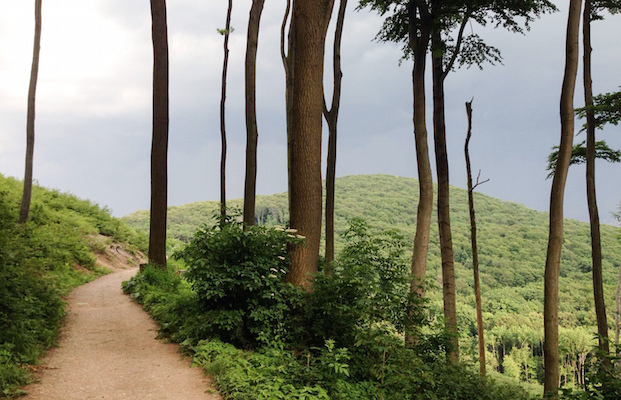 Get out into the green, go for a hike, escape and check out some awesome views while you're at it in the Wienerwald (Vienna woods) that border the 19th district. Some of the best views in the city can be had at spots like Kahlenberg, Cobenzl or Am Himmel located in the forest. And after you've experienced such great heights, you can choose to go back to town either through the woods or by winding your way through the wine hills (preferably with a bottle of wine in hand). Bike enthusiasts can also find some pretty adventurous tracks, and hikers can trick their boots on a Sunday into thinking they are actually doing some serious trekking. Check out some of the walking trails, here.
Alternatively, you can also practise our other favourite sport in the woods: Blanket Wining. It's when you lay on a blanket with a bottle of wine and… you get the rest. Freestyle versions of this sport can see the wine exchanged with beer and the blanket with somebody's lap.
5. Krapfenwaldbad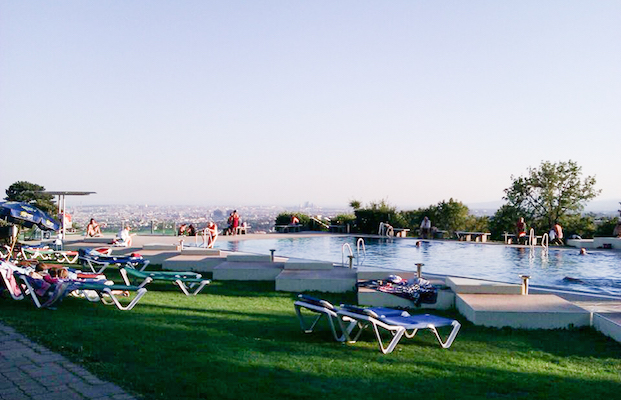 This might be our favourite outd
oor pool for those hot summer days when we're particularly happy with how our body is looking and have an urgent desire to show it off. The pool itself isn't very big, so it might not satisfy the more ambitious swimmers out there, but anyone looking for a relaxing spot with a great view over Vienna (and the crowd tend to be beautiful, as well) will make this spot a favourite.
6. Salettl Pavilion
Where: Hartäckerstraße 80, 1190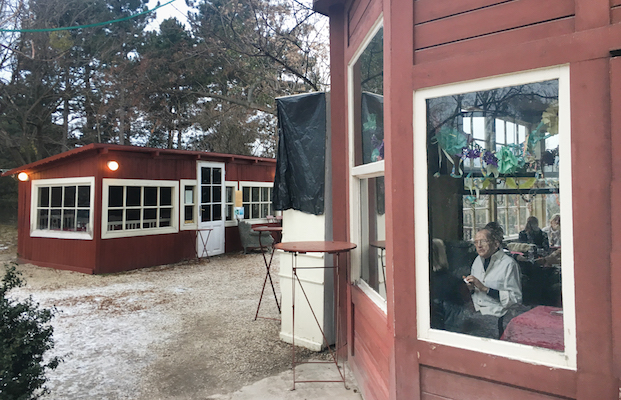 This small café in Döbling is an intimate spot for anybody wanting to hide away from the city rush. If it weren't for the 4 seasons of the year, one would think this place doesn't experience the passing of time. But it does, as it hosts the guests in a beautiful beer garden in summer and in a cosy, dim interior during the cold days of winter. They serve a long list of Viennese coffee creations, as well as old-style Austrian dishes and desserts. The name comes from the Italian word "saletta", meaning a little room, which used to be a pavilion, in a private or public garden, where lovers would hide away.
7. The plentiful places to wine, dine or drink coffee with a view
The 19th district lays claim to many a cafe, Heurige, restaurant and Hütte where to feast your eyes while treating your tastebuds to great food and drink (namely wine). They can be found nestled in amongst the vineyards or propped up on a hill, these places will have you feel like all oft he stress and problems below in the city are small, and that you're on top oft he world (or literally, Vienna).
Here are a few of our favourites
Oktogon am Himmel
Where: Himmelstraße Ecke Höhenstraße, 1190
Opening times: MON–TUE: closed, WED–FRI: 12pm–10pm, SAT–SUN: 11am–10pm
Josephinenhütte
Where: Josefsdorf 47, 1190
Opening times: MON: closed, TUE: 11am–6pm, WED–THU: 11am–8pm, FRI: 11am–9pm, SAT: 10am–9pm, SUN: 10am–7pm
Punks im Fischerhaus
Where: Höhenstraße/Rohrerwiese 223, 1190 (take the bus line 43A which will drop you nearby)
Opening times: FRI–SUN: 12pm–12am (only in summer, check the website for details)
8. Obkirchergasse & Obkirchermarkt
A district is not a district if it doesn't have its own real city center, a street where all the bustle of business can be found, and that ideally ends in a market. The 19th district's heart can be found at Obkirchergasse, which beats into the Obkircher Markt. Local merchants sell here local artisan food products while the old-time inhabitants of this district will probably have their hairdressers, tailor and shoemaker around this same area. If you want to experience the market, you can go on any given day, but we suggest you check out either the spring (April 22nd) or the autumn (Sept 16th) flea markets, when the owners bring their goods to the street and a glorious street festival erupts.
9. The quiet Sundays
Did you ever play "spot the human on a Sunday"? It goes a little like this: you go with a buddy on a Sunday to the 19th district. Each time one of you sees a human being you shout out, and points at the spotted human. At the end of the day, the one with the highest score (usually 1:0) wins. Going for a walk on a Sunday in the 19th district will have you believing you have the whole city to yourself.
10. Karl-Marx-Hof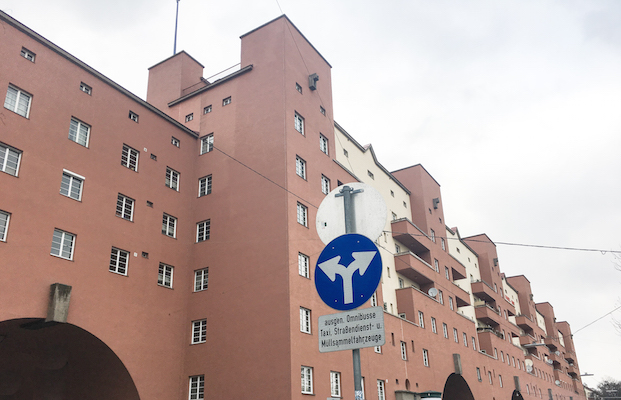 An architectural sensation and one of the first social housing projects in Europe, can be spotted right as you exit from the U4 line, Heiligenstadt station. Actually, it could also probably be spotted from space – this building is huge! It is over 1 km long and stretches over 4 tram stations (which reminds us that distances between tram stops in Vienna is ridiculously short sometimes, but that's a whole different story). So yes, it's impressively big, and that makes sense when considering it was designed to house over 5,000 people all together. It's named after Karl Marx for a reason, by the way. Be sure to check out the history of the place and what this little city in a building includes.
11. It's kinda Arsch-der-Welt, but also just 10 minutes away from the middle of town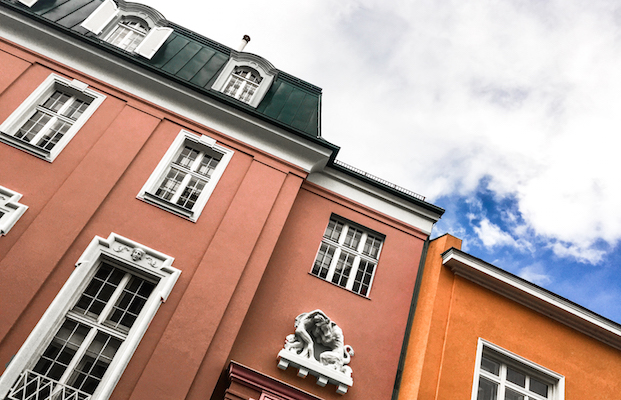 There are so many beautiful and entertaining myths about the 19th district, we wouldn't know where to start. Once we've heard someone say you can recognise men from the 19th district by their shiny, slicked back hair. Others swear they can tell just by hearing a Döblinger's accent that they come from this distinguished area. Even television shows have been made about this "better" society , including the series Vorstadtweiber, showing the shmancy housewives of the rich suburban Austrian life.
Is the 19th suburban though? It might often feel like it, but it's really a short ride away from town: the U4 takes you from Heiligenstadt to Schwedenplatz in 10 minutes, so just enough time to give your hair another swoosh and adjust that white collar and tie that your wearing to a football match. Were not judging.
Where: Silbergasse 19, 1190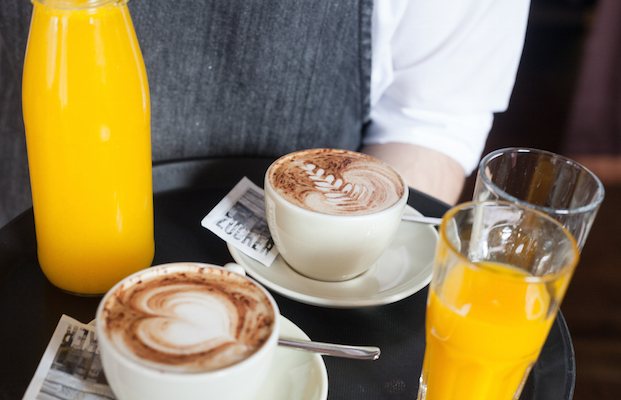 Cafe Cottage is your extended living room out where the city is green and the sound of birds singing can be heard. This place boasts a beautiful Schanigarten for summer and a sweeping and bright indoor space that carries modern elements of the Viennese coffeehouse charm. People come here to enjoy a long meal, spend many hours feasting on the all day breakfast, create art, sign real estate deals, watch films on their computer, have drinks in the evening – so pretty much anything you would do in your own living room. Well, anything kosher (and with clothes on) you would do in your living room.
Read our full review about Daniel Moser's cottage, here.
13. Restaurant Eckel
Where: Sieveringer Str. 46, 1190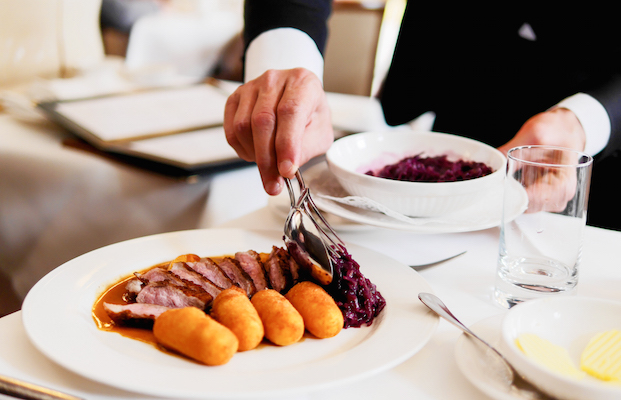 Restaurant Eckel's story begins – like every beautiful story – a long, long time ago. The great-grandfather of today's owners, who used to be a chef at the fancy Hotel Bristol in town, opened his first restaurant in Abertgasse, only to move just a few years later to the generous green spaces of the 19th district. Ever since, Eckel serves some of the best Austrian cuisine in the city, alongwith other fine dishes with a French influence. The waiters in black suits and ties seem to know most costumers by name and are happy to offer advise about the permanent (year round) menu, as well as their daily dishes.
14. The big ass beautiful mansions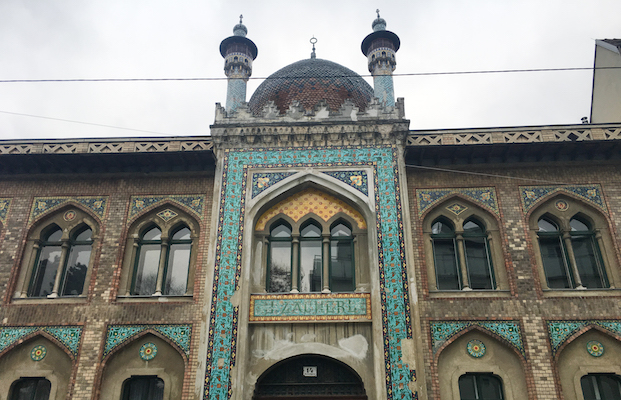 One of our favourite activities to do in the 19th district is to just walk amongst the beautiful mansions and other beautiful buildings of the area and gawk. Walking through the 19th district can make you dream big and picture yourself one day in one of the breath-taking mansions housed in the area. Some are impressive due to the old, classic constructions, while others are examples of bold modern, sleek architecture. And then there are those completely out of the box that make you want to ring the bell and hear the whole story of the people who live there.
The Zacherl House, on Nusswaldgasse is surely one of the more curious constructions in the area, since its façade resembles an Arabic mosque. And that is no coincidence!
The story of this house dates back to the middle of the 19th century, when Johann Zacherl, during a trip in Caucasus, found that a plant called Pyrethrums was successfully used by locals to keep insects out of the house. He started importing the plant in the form of powder and selling it here as insect repellent. In order to make it more appealing, he promoted it here as "Persian powder" and later he built a whole factory around it, that looked like something taken out of One Thousand and One Nights. Marketing, 19th century style!
The construction serves as a cultural center today. More information can be found on their website.
Where: Grinzinger Straße 55, 1190
While this is where the story of one of Vienna's most famous Heurige (wine taverns) began, today Figls is dedicated to beer. The Figlmüller family who opened up the Heurige with the famous Schnitzel in the city center are also responsible for this glorious and characterful place of good beer, and good traditional Austrian cuisine. And while they have some great wine on the menu, they call themselves the beer restaurant in the middle of the wine hills. They also have a idyllic beer garden that goes with the place. And yes, they do brew their own beer. Ask the waiting staff for their recommendation, and you'll find out everything you need to know.
16. Soccer & tennis at First Vienna FC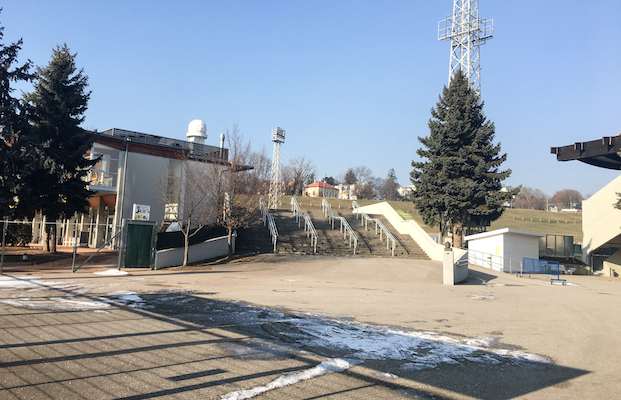 The First Vienna FC sports stadium was the first Vienna soccer stadium in the city, and now you can have a kick here in a game of football with friends, or a round of tennis. The club has trainers for both sports, holds competitions and hosts children's, women's, and professional soccer teams. They also have a great little bistro attached to the tennis club where you can eat a cheap lunch from Monday to Saturday.
17. It's framed by wine hills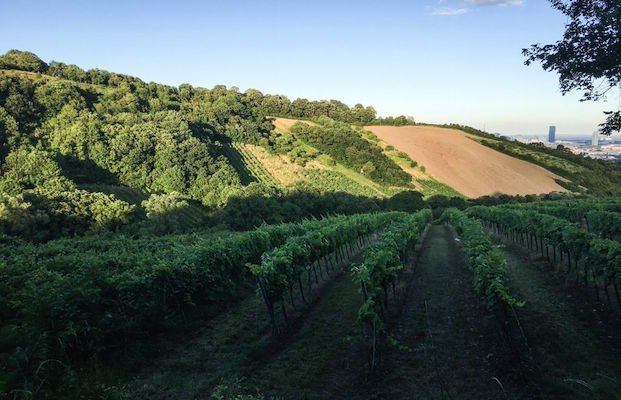 The fact that the 19th district is surrounded by vineyards lends it a very special ambience, especially in summer. It's also comforting to know that you're close to this precious resource. And also to know that there is plenty of wine still in the making so you might just as well order another bottle because this resource surely isn't scarce. Well, not in the 19th district, anyway.
18. The Beethoven Museum
Where: Probusgasse 6, 1190
Ludwig van Beethoven had several addresses while living in Vienna, including a sweet little place on Probusgasse in Heiligenstadt. Here he is supposed to have lived in 1802, a period when he was trying to improve his damage hearing.
In the house that can be visited as a museum today Beethoven worked, among other pieces, on his second symphony. This can be listened to over headset in the museum while staring out the same window the great composer had once projected his dreams into the horizon (how romantic are we?).
On a weirder note, visitors can also see a lock of his hair framed and put on a shelf and, our favourite item, a door handle that once, when pressed, used to open the door for no other than the mighty Beethoven. So, if you too worship the ground he walked on, do take a few steps onto the squeaky floors of this antique beauty of a house.
Where: Pfarrplatz 5, 1190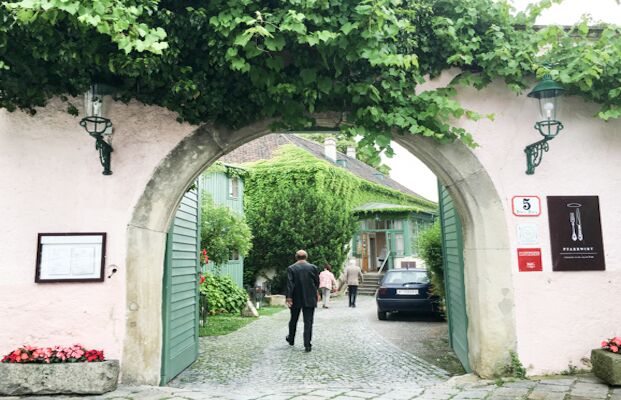 This elegant restaurant calls itself the oldest Wirtshaus (tavern) in Vienna. Offering the perfect place for a summer night's dinner in the garden, this is definitely a place to which to take your kinda-fancy guests from abroad when they want to sample the city's famous dish, the Schnitzel. In the winter, guests are warmly welcomed inside, while manager Rainer Husar, who adds an authentic semi-rude, semi-fun charm to the Austrian restaurant, runs around in attempt to serve his guests. Most of the dishes on the menu change seasonally, from the very Austrian Eierschwammerlgulasch (chanterelle gulasch) in the summer to Grammelknödel (pork dumplings) in the winter. Turn up here for a truly 'Wienerische' experience. Click here to see the menu!
Get content that you love in your inbox!
Hey, look at this similar content we made for you