Oh, and here's a printable map that will get you off land and into water quicker.
1. Ye' ol' Favourite: Strandbad Gänsehäufel
Where: Gänsehäufel, 1220
How to get there? There's a free shuttle service called 'Bäderbus' from the U-Bahn station U1 Kaisermühlen (the 1st bus leaves at 8:50am on weekdays and 7:50am on the weekend, while the last bus leaves Gänsehäufel at 8:15pm) – keep in mind: since Corona turned up, the Bäderbus is not running as reliably and regularly as it used to. We tried to research for concrete details on this, however, there's only conflicting info to be found online and from those we spoke to at the city's transport crowd.
This is the only so-called Strandbad (beach swimming pool) requiring an entry fee that we've included in this list, and there's a damn good reason for this – because this ol' favourite is as much a Viennese experience as is waltzing while wearing a Mozart wig, eating a Manner schnitte, and drinking a Spritzer – at the same time. It also holds many fond sun-soaked memories for anybody who grew up in Vienna. While the creepy concrete, communist-like summer houses that seem to be occupied with Vienna's entire elderly population give the place its one-of-a-kind look, this massive riverside park is dedicated to summer fun. Also located on the Alten Donau, it boasts idyllic swimming conditions (minus the overgrown algae in serious need of a haircut that strokes your chest while swimming). The Gänsehäufel has a range of recreational activities, like beach volleyball, a climbing park, a soccer field and lots more. It also has various eating options, involving all the favourites of the swimming pool, from Langos, to a Schnitzel sandwich and fries.
Useful facts
+ check the website for opening times.
+ entrance prices are as follows:
Adult = 5.50€
Child (over 6 years of age) = 1.80€
Child (below 6 years of age) = free
+ everything is available to hire here, from a towel, a changing cabin to swimming toys
+ you enter the water here from kind of a manicured beach setup consisting of little stones
2. For the atmosphere, bikinis and boardshort wearing friends you'll make: An der Unteren Alten Donau
Where: An der Unteren Alten Donau, 1220
How to get there? By bike, or catch the U2 U-Bahn line to the nearby Donaustadtbrüke station
Laughter, loud flirtatious conversation and the constant splash from a diving douchebags showing off his springboard action to the pretty people shying from the resulting splashback are the sounds of this gem of a summer swimming spot. A series of piers line this stretch on the Alten Donau. Easily accessible from the U-Bahn line U2, the piers are equipped with curvacious wooden reclining seats and plenty of boardwalk space to lie a towel down on and form a friends group circle. The atmosphere screams of the innocent good times summer brings out in one and all. Life is good here, especially if you join the many doing the Donau dive!
Useful facts
+ there's a Imbiss (takeaway) place on the same path leading between the U-Bahn station and the various piers.
+ here, you can experience the adventure of the Dixiklo (or how our uncle used to call them, the thunderbox)
+ the atmosphere, and the view, is best here when dusk is approaching
+ you can enter the water here by either jumping in backwards with a 3 time summersault/half-pike/backwards belly flop, or by simply using the steps
3. When you can't wait to dive in: Neue Donau
Where: Neue Donau, 1210
Had a long day and feel like you're the only one left working in this abandoned city of Vienna during the summer months and can't wait to dive in to the river and wash the day away? The swimming spot that spreads itself on either side of the bridge where the U6 line will drop you is your quick, easy escape option. A short walk down a hill from the U6 Neue Donau station, you can head to the more crowded side under the Pfunder's Gastwirtschaft, on your left (as leaving the Neue Donau station) or you can go right where a the bathing crowd is a bit more scattered and spread out (Tip: The further you go in this direction, the more alone you'll become and the more secluded spots you'll find)
Here, you're swimming in the running Neue Donau section of the river, which means there's less algae tickling your toes in the water.
Useful facts 
+ there's an ice cream stand in front of the U-Bahn station and a ice cream cart that comes by regularly on the hot days, also selling beer
+ there's a nasty, nevertheless functioning, toilet in the U-Bahn station
+ dogs are allowed
+ shade is rare in these parts
+ you enter the water through little openings in the vegetation, and by carefully climbing over stones into the water
4. A free swimming spot with all the benefits of a swimming pool: Romaplatz
Where: Lagerwiese Romaplatz, 1210
Romaplatz possesses a atmosphere that belongs more to a lakeside setting. There's little that Romaplatz doesn't offer than it's neighbour, the Angelibad for which there's an entrance fee. This green, shady park sprawls out like a sunbathing walrus, in front of the calm waters of the Alte Donau. And the idyllic setting is not the only reason it's become a favourite amongst those who know about it, but it's plentiful recreational activity offerings (beach volleyball, table tennis tables, basketball courts) is pimps the place up.
Useful facts
+ plenty of trees = plenty of shade at Romaplatz
+ plenty of spots to set up your slack line or your hammock
+ there's a Würstelstand selling your typical takeaway food and cold drinks
+ a squat-rather-than-sit kind of public toilet is available
+ also on offer: beach volleyball facilities, table tennis tables, a small basketball court
5. Pier parties and lazy summer days: An der Oberen Alten Donau
Where: An der Oberen Alten Donau, 1220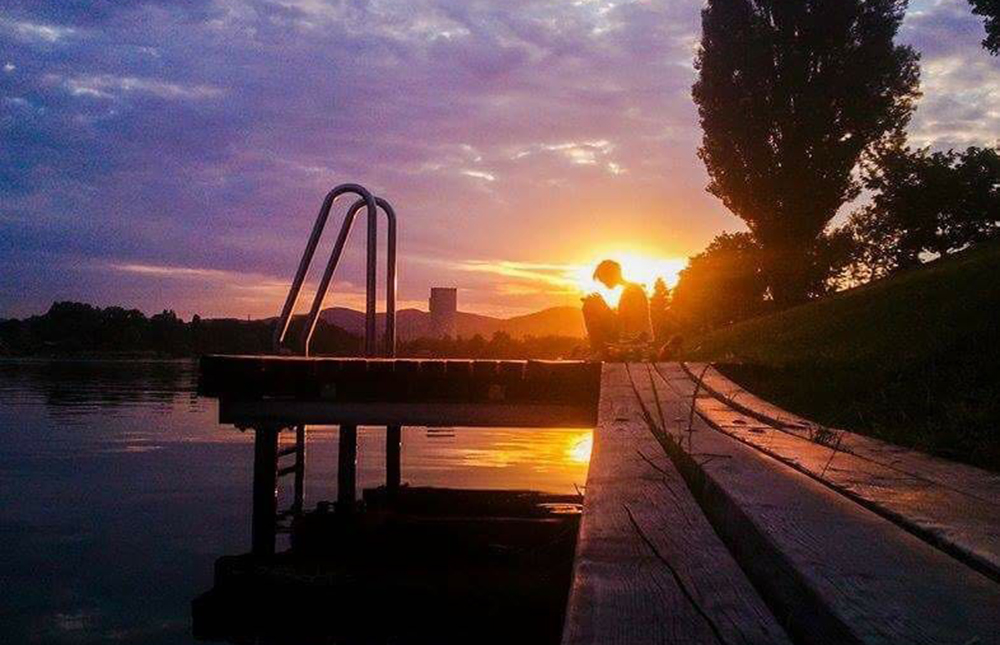 This stretch of summer paradise is not only a great spot to swim while the sun's out, but it's also known for it's pier parties and night swimming after nightfall. It's a common sight to see people equipped with music, booze and a group of friends still jumping into the water at around 11pm. There are several piers lining this stretch known as the An der Oberen Alten Donau which make for a great setting for you and your friends open air riverside parties.
Useful facts
+ entering the water here can be done by diving in, or – for those amongst us who aren't the diving type and rather ease their way in to the water – use the ladders on the piers
+ there are dixiklos (portable toilets) available
+ with plenty of restaurants, Imbiss and the boat rental places close by, there are plenty of options to buy drinks
+ shade is scarce
Get content that you love in your inbox!
Hey, look at this similar content we made for you