Lebkuchen
One of the best things to come out of the Germanic world is this spiced biscuit that many akin to gingerbread. This flat bread honey cake thing-y has a history, having been invented in Germany (eg. German beer tradition) by monks in the 13th century.
Since then, this cookie has evolved into many variations. We put aside at least an hour each Christmas to dedicate to the chocolate covered Lebkuchen and a hot cup of tea.
Würstel Oma's original Lebkuchen recipe
56 dag Mehl (560 g flour)
36 dag Zucker (360 g sugar)
5 EL flüssiger Honig (5 tbsp honey, liquid)
4 Eier (4 eggs)
4 gr. Messerspitzen Natron (4 pinches of baking soda)
Schale einer Zitrone (Lemon zest)
Gewürznelke (Clove)
Zimt (Cinnamon)
Mix eggs and honey. Mix part of the flour with the baking soda and add it to the egg & honey mix. Knead the rest of the flour, knead the dough. Put it into the fridge for 1 hour. Roll it flat (not too thin) and cut out the biscuits. Brush some egg yolk, put into the oven until they're golden brown.
Vanillekipferl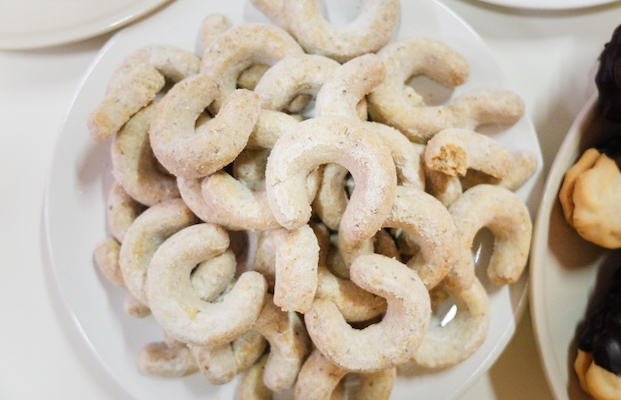 These half-moon-shaped biscuits are Austrian originals. As buttery sweet as shortbread, good ones will crumble in your hands before they reach your mouth. These little babies are pure sugary bliss!
Würstel Oma's original Vanillekipferl recipe
20 dag Butter (200 g butter)
10 dag Zucker (100 g sugar)
10 dag geriebene Haselnüsse (100 g grated hazelnuts)
26 dag Mehl (260 g flour)
Vanillezucker (vanilla sugar)
Mix butter (at room temperature), sugar, nuts and flour until a smooth dough forms. Put the dough into the fridge for 1 hour, while preheating the oven. Form the famous Kipferl shape out of the dough, and bake them for 15 minutes at 180°C. While still warm, roll them in vanilla sugar.
Rumkugeln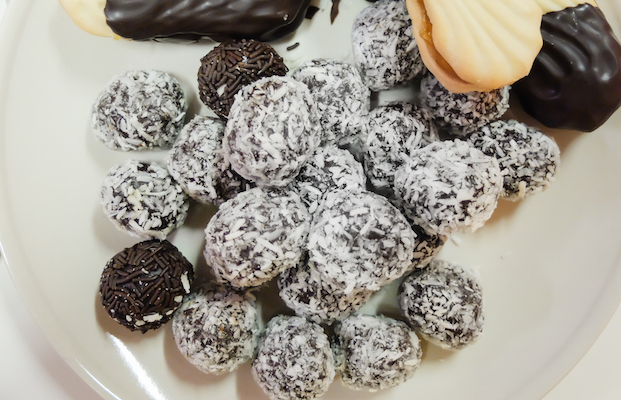 During the production process of these little chocolate and coconut covered Christmas balls, we'd often find our Oma riding the broom around the kitchen on the broom stick as if it's a horse, singing the Christmas carol 'dashing through the snow …' while giggling like a little girl.
These rum balls would often become just balls, minus the rum. And our grandma would end up making out with the St. Nikolaus statue. But anyway, rum balls are a brilliant addition to the Christmas biscuit spread.
Würstel Oma's original Rumkugeln recipe
14 dag Staubzucker (140 g powdered sugar)
14 dag geriebene Nüsse (140 g grated nuts)
1 Eiklar (1 egg white)
2 Kaffeelöffel Kakao (2 coffee spoons of cocoa)
Rum
Kristallzucker (granulated sugar)
Mix powdered sugar, nuts, egg white and cocoa with a pinch of rum (to dampen) until the dough is smooth. Form small balls, roll them in the granulated sugar, and let them air dry.
Kokosbusserl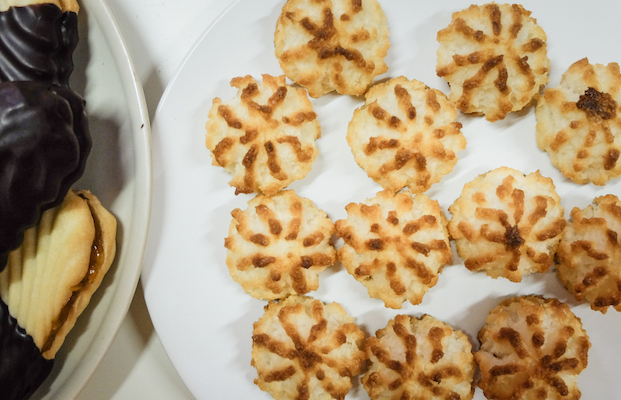 Kokosbusserl. *giggle* Kokosbusserl *giggle* Sorry, we can't help ourselves. We like to think of the exotic warm places where the coconuts came from when eating these puffs of coconut delight.
Würstel Oma's original Kokosbusserl recipe
24 dag Zucker (240 g sugar)
14 dag Kokosflocken (140 g coconut flakes)
20 Backoblaten (20 wafers)
4 Eiklar (4 egg whites)
Saft einer Zitrone (juice from one lemon)
Mix sugar, coconut flakes, lemon juice and egg white, and maybe add some flour if the mixture is too moist. Put the mix into a icing bag and squirt onto the waver, and let them rest for a few minutes. Bake for 10–15 minutes at 180°C.
Husarenkrapferl (mit Nuss)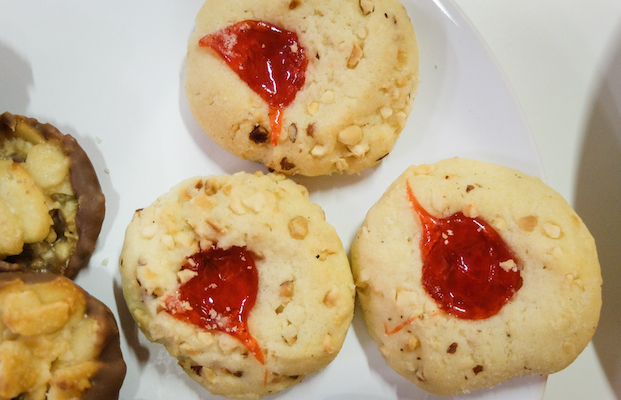 We like to tongue at the marmalade in the middle of these simply-made biscuit babies. Imagine that for a second. It's quite the sight.
Würstel Oma's original Husarenkrapferl recipe (without nuts)
14 dag Butter (140 g butter)
21 dag Mehl (210 g flour)
2 Dotter (2 egg yolks)
7 dag Zucker (70 g sugar)
Marmelade (jam)
Mix all ingredients, form balls, flatten the top and make a divot in the middle. Bake at 180°C for a few minutes (not too long, they should still be light yellow, not brown), let them cool off, and put a dollop of jam in the middle.
Florentiner

Unless you puke, faint or die, keep nibbling on these nutty, fruity favourites until a shirt button pops.
Würstel Oma's original Florentiner recipe
10 dag Butter (100 g butter)
15 dag Zucker (150 g sugar)
5 dag Honig (50 g honey)
13 dag gehobelte Mandelblättchen (130 g almond flakes, shaved)
12 dag Schlagobers (120 g cream)
15 dag Zartbitterschokolade (150 g semisweet chocolate)
Mix butter, sugar, honey and cream on the stove and let the mix simmer for a few minutes. Roast almonds in a pan, add to the mixture and let it all simmer again for a few minutes. Put the mixture on a baking tray and bake for 10 minutes at 180°C, and leave to cool. Break the chocolate into small pieces and melt it in a bowl over some boiling hot water. Dip the cooled cookies into the chocolate on one side and leave to cool. Cut into rectangles, put chocolate on the sides, and allow to dry.
Linzer Stangerl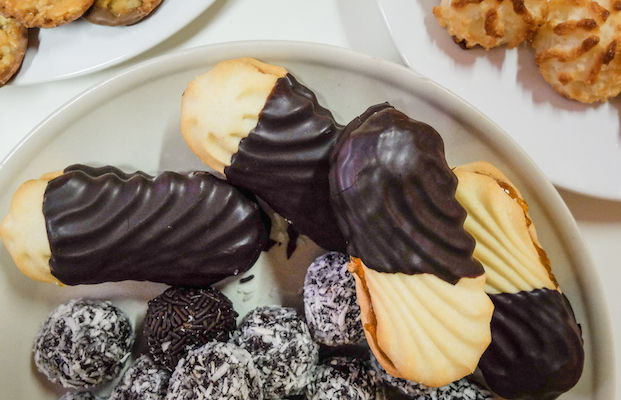 It's a biscuit sandwich with a marmelade filling, dipped in chocolate. What's not to love?
Würstel Oma's original Linzer Stangerl recipe
25 dag Butter (250 g butter)
29 dag Mehl (290 g Mehl)
10 dag Staubzucker (100 g powdered sugar)
3 TL Vanillezucker (3 tbsp. vanilla sugar)
1 Ei (1 egg)
Zitronenschale (lemon zest)
Salz (salt)
Marmelade (jam)
Schokolade (chocolate)
Mix butter, sugar, lemon zest, vanilla sugar and salt, and then add egg and flour. Put the mixture into a pastry bag and squeeze onto a baking tray. Bake for 10 minutes and allow to cool. Glue two of the biscuits together by spreading marmelade in the middle. Dip one side into melted chocolate.
Get content that you love in your inbox!
Hey, look at this similar content we made for you