"You can look at mine if you want, the ladies say it's cute," he says before laughing out loud and starting to sing. I zip up and leave the singing, chatty urinator and escape back into the café. You meet all kinds of characters here at Kaffee Alt Wien.
Resuming my place on the red velvet bench seat, hidden in a tiny enclave of the snugly lit café, I listen to a big bellied man educate a couple of German tourists in a thick Viennese dialect about the legend Kaffee Alt Wien owns – in between slurps of his soup.
"This place was the place for all sorts of artists, writers, poets and down right crazy characters long before the tourists arrived." This makes me think of the drunken poet that had sat down next to me and my date here one night and sold me a poetry magazine he had written for. He had gone straight to the bar afterwards and bought himself red wine with his profits. We watched him earn his wine the same way with the other tables throughout the evening. The big bellied man's words still apply today at Kaffee Alt Wien. It has that kind of charisma that can't be artificially conjured, but a place can only grow into.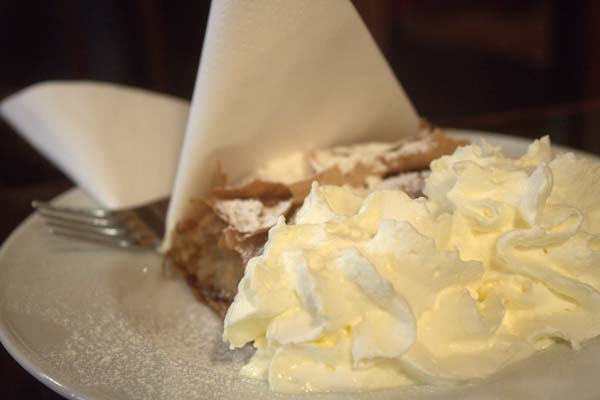 The waiter drops a pile of glasses with dregs of beer left in them on my table so he can scribble my order onto his little pad. The infamous attitude that comes with smartly dressed Viennese waiters is well played here.
I order a Melange (the Viennese version of a Cappuccino) and the Apfelstrudel – which is, in our humble opinion, the best strudel in the city. It's said to be made from a family recipe, handed down from generations.
"It's also the place for a richtig gutes Wiener Gulasch," adds the big-bellied man.
Kaffee Alt Wien (and its Gulasch) carries a legend that has gone viral amongst tourist guides in recent years, hence the mix of young students seeking the bohemian mojo, tourists taking photos, veteran Stammgäste (regulars) perched on the bar, and creative types sat at the typical coffeehouse Thonet chairs, around the typical marble top tables.
It's the poor man's, bohemian Viennese Coffeehouse, especially when compared to the other well known coffeehouses of the city center, like Café Central. There is one other famous Viennese coffeehouse that shares the same cigarette-smoke-stained, dimly lit, roughed-up charm look – Café Hawelka. There's a reason for that, as the Kaffee Alt Wien and Café Hawelka share the same parents. Leopold and Josefine Hawelka opened Kaffee Alt Wien on the day after their wedding in 1936, before moving onto open Café Hawelka in 1939.
There's a guy talking to himself at the bar, while another guy scoops at lavish servings of mustard and horse radish with his Frankfurter sausages which disappear into his mouth, followed by a tear of a Semmel (bread roll). Within 5 minutes he is done, and so is his Krügerl (pint) of beer. He wipes his fingers on the newspaper he's reading in the meantime.
The café is a living museum of past and present Vienna. It's also one of the only cafés you'll get the sneaking suspicion that the place is shrinking – year's worth of posters have been layered on top of each other, leaving little bare wall to be seen.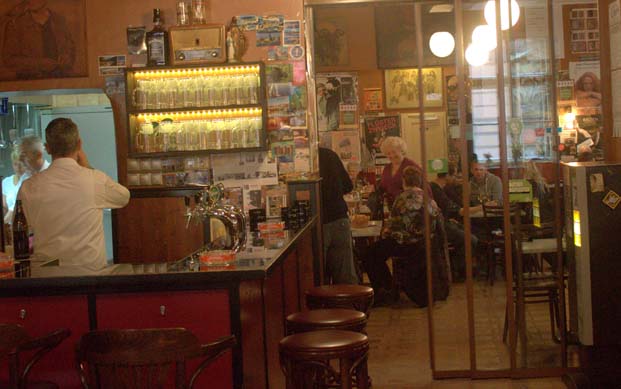 The coffee (or whatever your beverage be) and cigarettes can be enjoyed in the front room, however there is also a large non-smoking room in the back.
With its long opening hours, Kaffee Alt Wien lives two lives, every day of its life – by day it's a café and by night (from about 5pm onwards) it's typically full with a crowd drinking wine and beer, and a atmosphere more akin to a Beisl (a Viennese type of bar). That's what is one of its charming attributes – it's whatever you want it to be. For the literary or artistic type, it has the feel of a place where inspiration is born. For everybody else, its unpretentious old charm charisma makes you feel you're in the midst of creatives.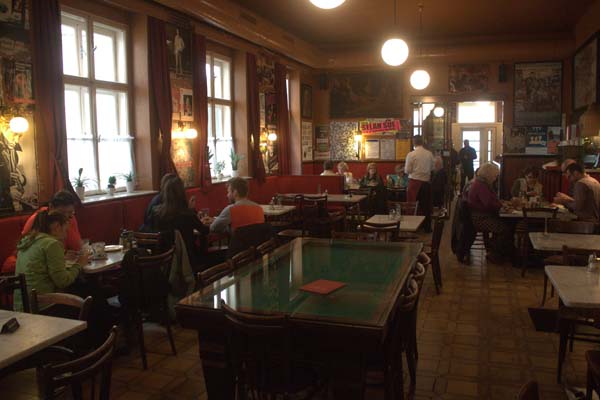 The prices are also unpretentious. The food menu is brief, with the typical Viennese classic dishes at reasonable prices, while the drinks list is strictly beer, wine and spirits, alongside the standard hot drinks. And while a Melange in many coffeehouses will typically mean an average coffee with a pile of milk foam on top, Kaffee Alt Wien has evolved, and serves up a quality, creamy alternative.
While Kaffee Alt Wien's fame has morphed it into a popular, busy haunt for all sorts, it's somehow been able to maintain its personality – which speaks with a sigh, one eyebrow raised, and an exhaling of cigarette smoke – of the Viennese charm.
Get content that you love in your inbox!
Hey, look at this similar content we made for you