You'll consider yourself the modern urban outdoor cafe adventurer while trekking through the shrubbery to your table in the Art Noveau steel and glass structure, once used by the Emperor as a place to chill.
Built in 1822 as a glasshouse and winter hideout for tropical plants, it's now (since 1992) the home of one of Vienna's most impressive spots for dining and drinking. Directly overlooking the glorious Burggarten (formerly the Emperor's private gardens), the atmosphere in the bulging dinaing garden out front pulls a crowd whenever the sun shows its face.
The Palmenhaus is best in summer, when the sun reaches through the the glass and palm trees on to your breakfast plate in the morning (yes, the breakfast here is worth checking out). Nevertheless, even in Spring and Autumn, you'll find people fighting over the last available spots out front where the sun hits. The Emperor's old playground works as an after work option, a spot with a front row to the sunset, for a coffee (it's mediocre, but the setting makes up for it) anytime of day or to have a bite of some first-class culinary creation. The menu's an odd bunch of dishes thrown together into about a dozen options, involving a few seafood mains, like the grilled sea bream and grilled prawns, alongside filet steak and a original veal burger (think pineapple, banana chips and mango chili salsa). And, of course, with its high tourist traffic, the mighty Schnitzel makes an appearance.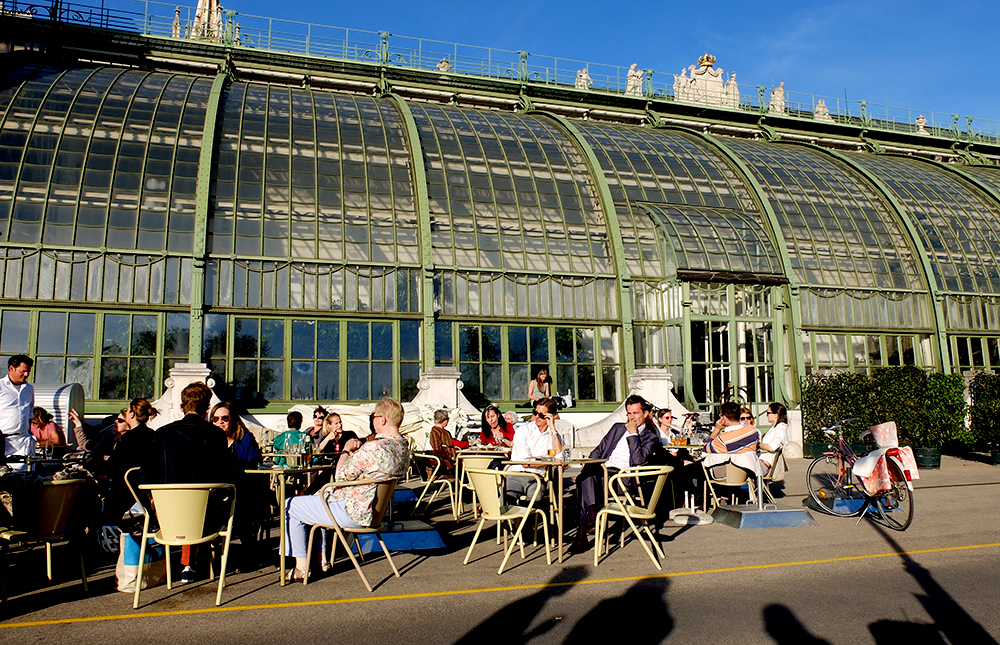 It also makes for a great breakfast hideaway that will inspire you for the day. The standard Viennese breakfast of rolls, cold cuts, marmelade and a boiled egg stand alongside a few fresh and original breakfast combinations, like a salmon and bagel combo, or the Palmenhaus Breakfast with its scrambled eggs and mango smoothie.
The atmosphere is one-of-a-kind here at anytime – you can gaze at the garden, or the huge exotic plants inside the steel and glass front, and feel like an Emperor yourself.
Get content that you love in your inbox!
Hey, look at this similar content we made for you