Vienna has long been a city of take away food stands – here's a list of the dishes they serve, in all their deliciously unhealthy goodness.
1. The mighty Würstel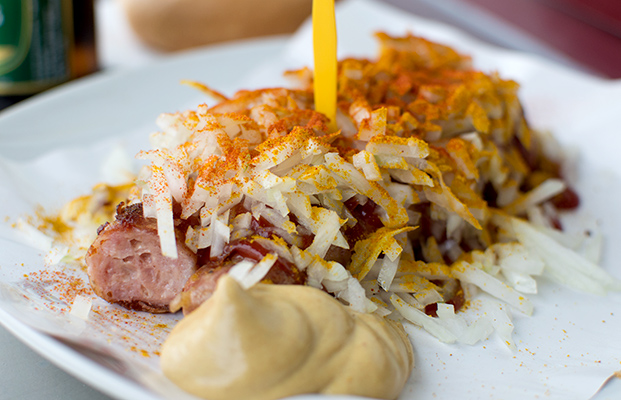 It's no accident the Würstel tops this list. The Würstelstand is the veteran of Vienna's street food scene with the first of them, Leo Würstelstand, having opened up in 1928. Since the Teibtner family of the Würstelstand Stadion had an epiphany to grill Austria's very own creation, the Käsekrainer, instead of boiling them (yes, they used to be boiled – ewwww), the Würstelstände of the city have become beloved birthmarks on the city. Eating a Würstel is acceptable at anytime of day in Vienna, including drinking the customary Pfiff (a small beer) that goes with it.
+ This weekend (Sept. 9–11), there will even be a festival celebrating the Würstel, called Das Fest Der Wurst, where you can learn more about the city's affection for this creation.
+ Meanwhile, check out our awesome guide here on where to find the best Würstelstände for sausage in the city.
+ Also, you can check out our guide to the dark arts of Würstelstand etiquette, here.
2. The pizza slice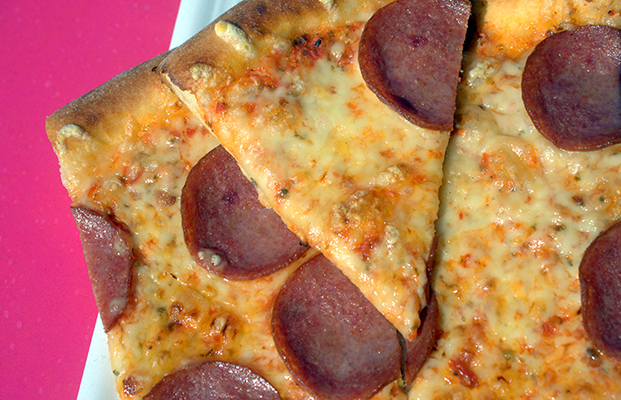 We're not sure whether to believe the varying rumours that Italians, or entrepreneurial Turkish, or Hollywood films set in New York brought the pizza slice to Vienna's streets, but however it got here, it's now a street food that can be found everywhere in the city. As large as the moon, and dripping with enough oil that if you threw it on your ceiling, you'd need a broom to knock it down (WARNING: don't try this at home … unless it's somebody else's home), it's a true pleasure to munch on a pizza slice on Vienna streets after having levered it to your mouth with your darting lizard-like tongue.
3.The Döner Kebap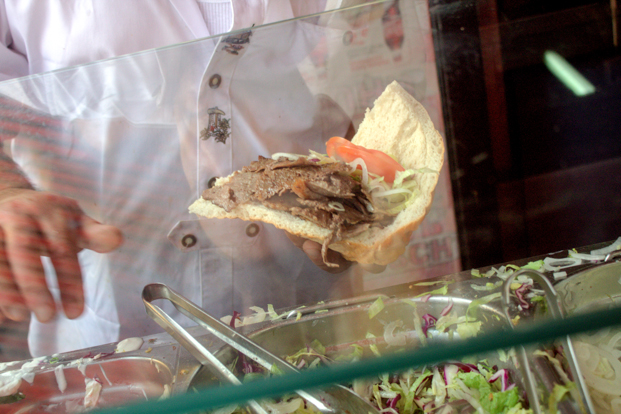 Like around most of Central Europe, this Turkish import has made it into local folklore, songs, sayings like "Döner macht schöner," and mouths since it hit Vienna's streets in 1983. The pioneer who served up Vienna's Döner didn't do it from a stand, but his small eatery, Kebab Haus on Operngasse.
Meanwhile, such a characterful dish was always bound to have its fair bit of controversy. For example, the scent emitted by the dirty Döner is a highly contested topic of many a subway ride. Not to mention that little horse meat scandal a few years back. However, when you see somebody hoovering down a Döner while wobbling to the music of the copious amounts of alcohol in their system, you realise the honest truth – we all secretly share an affection for the Döner as something we'd never be able to live without.
Oh, and one more thing: "Mit scharf?' (This line, meaning "with or without chili powder?", is an iconic question to the whole Döner experience in Vienna.)
There are a lot of great Döner stands and shops. For us, these are four of the best places to quench your Döner cravings:
Berliner Döner: Zieglergasse 33, 1070. (Map) Döner meat from Berlin, with a big heart for their customers.
Baschly: Naschmarkt Stand 663, 1060 (Map) While it's Chicken Döner, it's damn tasty. Plus try their Falafel.
Lamm: Sechshauserstrasse 40, 1150 (Map) When it comes to the traditional lamb Döner, this place is top.
Backshop: Siebenbrunnengasse 55–57, 1050 (Map) Also try their Lahmacun. Seriously.
4.The Schnitzelsemmel
Whatever genius made it possible for Vienna's most revered dish, the mighty Schnitzel, to be enjoyed on-the-go, should be knighted, awarded the Nobel Peace prize, photographed with the Dalai Lama and there should be painted portraits of them sitting aloft the mantel piece of fireplaces in apartments across the city.
Readily available at most takeaway stands, the moral dilemma confronts us every time when the Standler (stand owner) asks the question which carries as much weight as questions like, "what's the meaning of life?" or, "if you could be a character in The Hunger Games, who would it be?" – "mit oder ohne Zwiebel?" (with or without onions?)
5. The Leberkäsesemmel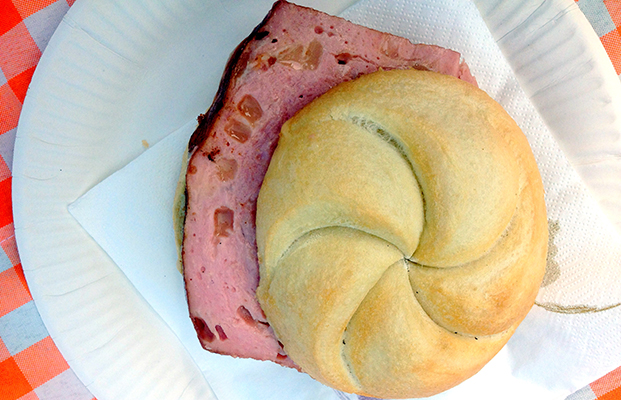 This beautiful ugly 356 calories of delight, the Leberkässemmel, is a favourite street food amongst all sorts across the social spectrum.  So next time you're at a party and are feeling nervous to chat up the pretty girl in the corner, just remember – no matter how elegant you think that girl looks, you can be sure she's smashed a Leberkässemmel at some point in her life.
There's something so perversely satisfying about sinking your teeth past the crunch of the Semmel (bread roil) and into the spongy, fleshy, sweaty pinkness of the pressed loaf of meat known as the Leberkäse. While available at most Würstelstände, the best quality will always be found in butcher shops.
The Leberkässemmel can be found at a lot of Würstelstände. For us, these are three of Vienna's best places to devour the caloric sin:
Würstelstand LEO: Döblinger Gürtel 2, 1190 (Map) If they have it, opt for the boar Leberkässemmel.
Würstelstand am Hohen Markt: Hoher Markt 1, 1010 (Map) Here, you'll also get your horse meat Leberkässemmel fix.
Leberkaspepi: Operngasse 12, 1010 (Map) One with an all-Leberkäse expertise. Also try their seasonal varieties.
6. The Börek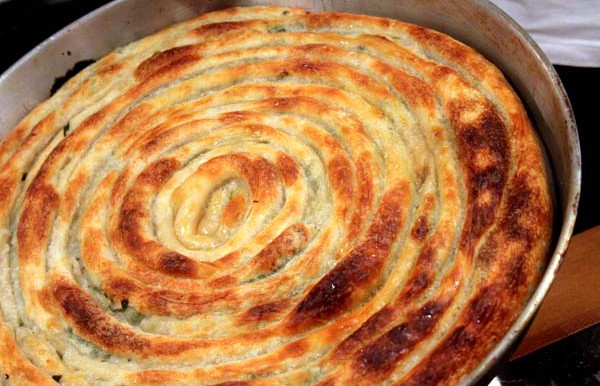 This product of the Ottoman empire can be found in its many variations in most take away stands around Vienna. While versions of this flaky pastry found at stands within some of the inner districts can be sad, soggy excuses of this heavy-weight snack, enjoying one of these bad boys from a stand in the migrant-dense outlying districts (especially the 5th, 15th, 16th, and 20th district) is the go.
If we've made you hungry, do give the Börek a try. For example at one of these three Börek stands and shops:
Özkaya: Meiselstrasse 22, 1150 (Map): A wonderland of Turkish goods from bread to biscuits.
Pitara Oroz: Hubergasse 9, 1160 (Map): Give their potato Börek a try. And the Kirschstrudel.
Halis Börek Salonu: Brunnengasse 48, 1160 (Map): Their sweet potato Börek will make you moist. Promise.
7. The 'happy' noodles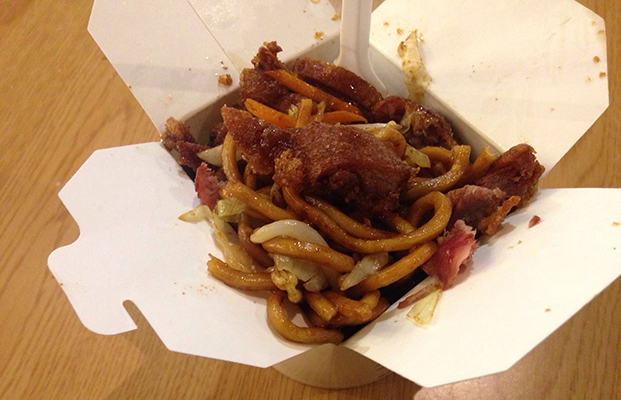 Around 2010, a noodle wave hit the city. Many of the old Würstelstände handed over their keys and stands where zen-like noodles could be found under signs reading "Happy Noodles" or "Smile Noodles" started popping up all over the place. This led to stands previously selling Döner and pizza, expanding their repertoire to noodles, which led to one of the world's weirdest cuisine fusions taking shape. This was also how the Döner box (the fillings of a Döner thrown into a box and eaten with a fork) came to be born.
Toppings from grilled salmon to fried duck can be enjoyed on a bed of heavily soy sauced noodles, mixed with vegetables (mostly a few shreds of lettuce) in a sweaty box. And for the real Asian experience, chop sticks can be used, to the delight of the pigeons who catch the scraps.
Get content that you love in your inbox!
Hey, look at this similar content we made for you