Here's 16 things we are most looking forward to do in Vienna as soon as spring is truly here:
1. Taking advantage of (still!) no tourists being in town & checking out the city's palaces
It's no mystery why Vienna's palace gardens are normally filled with tourists – they are f**** stunning! And the best thing: after over two years with our lovely friend called C, they're still a lot less crowded than normal. So, take your chance to enjoy Vienna's beautiful palace gardens without almost having your head taken off by a selfie stick.
Palace gardens you should definitely check out are Belvedere and Schönbrunn (which we're sure you knew already).
Oh, and in case you want to find out more about Schloss Schönbrunn – we did a little research to find some interesting facts about the old Habsburg hangout.
2. Swapping the discussions of Roni still going strong for discussions about what pollen you're allergic to

YES! We've never been happier about pollen and all that comes with them. It feels really good knowing that your itchy and swollen eyes and running nose come from something so beautiful and non contagious like trees, flowers and grass.
3. Taking a walk through the cherry blossoms & flowers in Stadtpark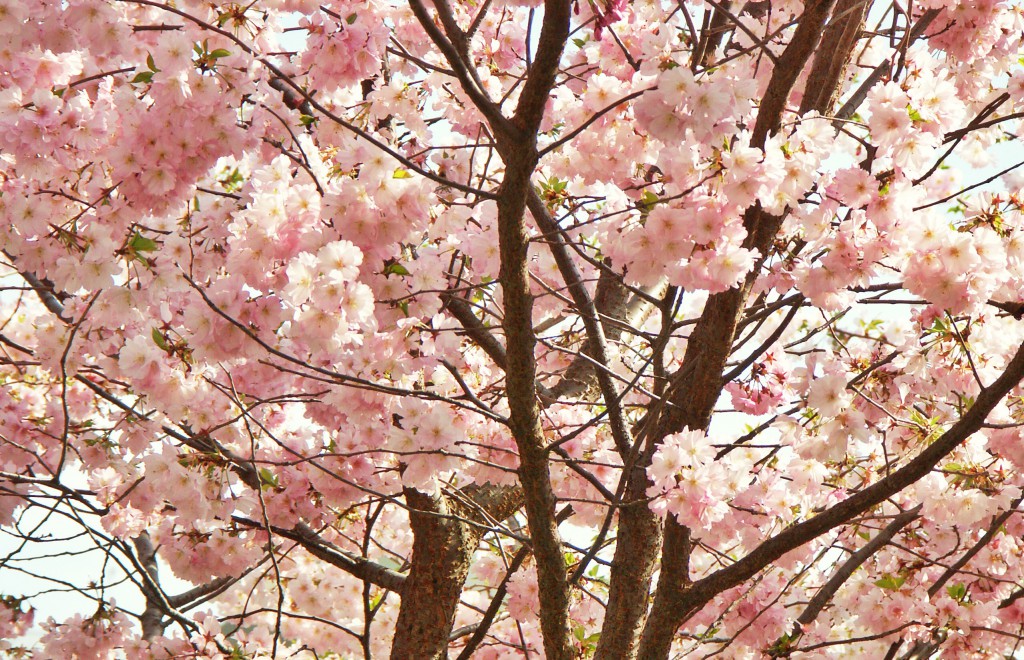 A beautiful explosion of pink colour goes off all over Stadtpark in Spring as the cherry blossom trees start to bloom. Meanwhile, a multitude of other flowers bloom and fill the air with enough pollen they'll make you sneeze, and smells that will make your nose go 'HOOCHI-MAMA!'
Go for a walk, sit under a tree, and take in the smells that Spring spits out in a big way.
4. Making the most out of our days and using every bit of sunlight that spring offers
You'll notice that email response time tends to become longer as the days do. The work life balancing act tends to lean more towards 'life' in Vienna when the sun turns up. And that's why we love this city.
5. Holding your own Donaukanal graffiti gallery opening party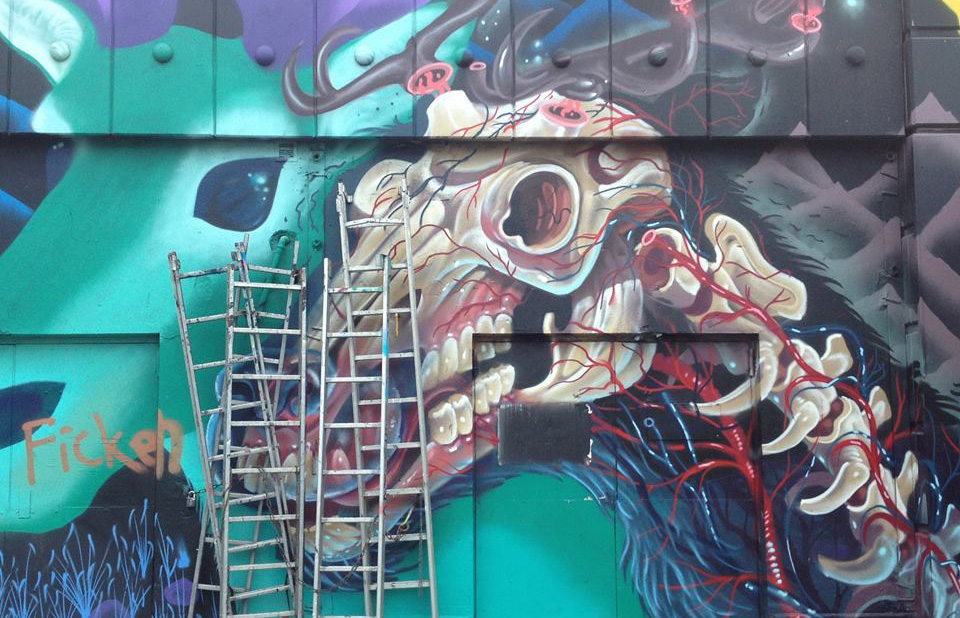 As soon as the first rays of sunshine appear, the city's graffiti artists come out to play. After the long winter hibernation and conditions improve, masters of the spray paint return to their canvas of the Donaukanal, leading to the promenade's face being freshened up with a whole range of new street art and graffiti work.
Stroll through the open air gallery and take in the unframed vibrant motifs. Also, considering the 2nd district side of the Donaukanal promenade is a great spot to catch some afternoon sun-rays, we suggest after your self-guided graffiti tour, that you sit down on the grass with a bottle of wine or a couple cans of beer, and discuss (in sophisticated accents, of course) the new Spring exhibit that organically takes shape here on its own.
Check out this TikTok from some of last year's murals at the Donaukanal:
6. Stuffing our mouths with the very first ice cream of the season
Who gives a hooty-nanny if the temperatures still have your nipples pointing towards the sun, the city's ice cream parlour's doors are flying open already, and the licking and slurping of the good stuff has begun. Dive your nose into the first ice cream of the season at one of Vienna's ice cream parlours. Check out our guide on the best ice cream parlours in Vienna.
7. Bikinis, beer and topless sunbathing in Burgarten, or Augarten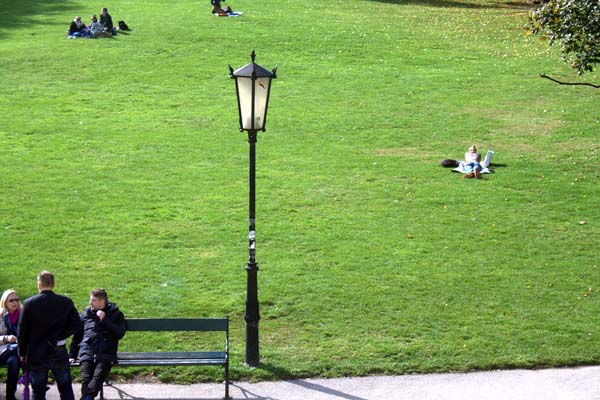 There's nothing like that atmosphere when the first warm days arrive and the parks are filled with people soaking in the sun. It still amazes us how early and quickly the people of Vienna lose their shirts outside in Spring.
In Vienna, on the first day of Spring that the barometer reads over 15 degrees, it's time to get your top off (bikini on, if you so require it) and meet with friends in Burggarten, or Augarten park. This is one of our favourite signs that the city has awakened from it's dark day slumber, and is eager to soak in every bit of Vitamin D the sun can throw down on it.
8. Drinking a refreshing Spritzer at one of Vienna's Schanigärten
Ok, so this one might not be the most promising one to look forward to. As we all know, it's a constant up and down with the unpredictable weather in spring. However, we keep our hopes up high that at some point this spring, we'll be able to sit in one of Vienna's many Schanigärten and enjoy our beloved Spritzer.
Be sure to check out our list of the Schanigärten that get a good dose of sun. This way, you know about all the good ones for when the sun's out.
9. Having a picnic in a park
Warning: this activity is not recommended for the kind of people that complain about how cold it is on an abnormally regular basis, until summer, when they complain about how hot it is – in other words, this one's only for the hardcore Spring fanatics
Laying down a blanket, and encircling a basket full of food with your friends, or with the person who's ear you most enjoy nibbling on while they sleep, is one of the simplest, yet most scrumptious experiences to have when the sun is squeezing out some warmth.
Dress warm, and get the first picnic in at the mighty Prater park, or at one of these Vienna parks we recommend.
10. Getting your bike ready for the season aaaand start cycling!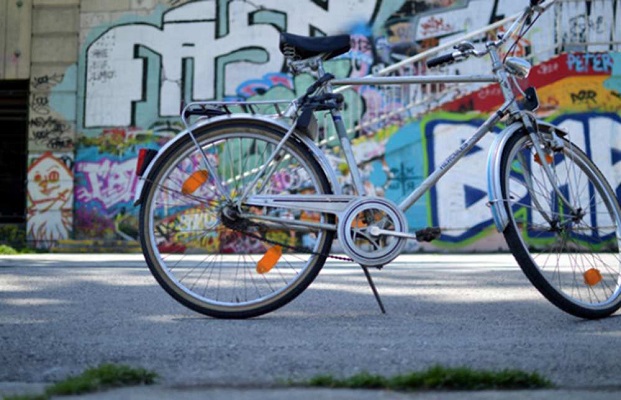 You should have already cleaned off that two-wheeled beloved beast of yours and made it street ready. If you haven't, before we go any further, check out some tips here on how to get your bike ready for Spring.
Now we've got that out of the way – jump on your bike and make the most out of this city's many bike paths. We recommend following the Donaukanal out of the city.
11. Heading to the markets for Spring's specialities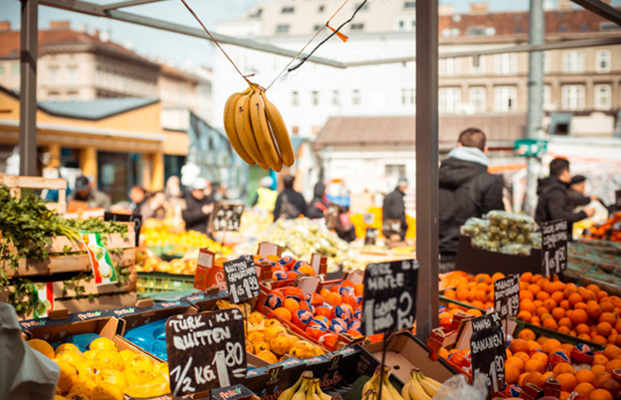 Deeply rooted in the Austrian culture is a deep respect for seasonal fruit and vegetables grown regionally. To every season belongs certain fruit and veg', and Spring sees people overdosing on asparagus, strawberries, spinach and Bärlauch (translation: wild garlic).
While most of these products are available all year round thanks to globalisation, they're regionally sourced at this time of year, meaning the taste will have your lips smacking.
When you see the sun poking its head up one of these Spring mornings, we suggest you hit one of Vienna's many neighbourhood markets, basket some fresh produce, and perhaps stop for a coffee to go while you're at it. Check out your ultimate list on Vienna's best neighbourhood markets, or our guide to the city's best farmer's markets.
12. Shooting & posting on Instagram a photo of that magnolia tree with the damn fine looking flowers on it in Sigmund-Freud-Park
With the Votivkirche in the background, of course. No matter who you are, we can almost guarantee you've got hundreds of such pictures popping up in your feed.
13. Sitting at beautiful spots in the old city, close your eyes, face the sun and recharge your batteries
Find a spot in the sun, lean back, close your eyes and let that sun soak in – it's a common sight in Vienna to see people with their eyes closed facing towards the sun (we'll call it Spring sunbathing). Here's some of our favourite Spring sunbathing spots:
+ Museumsquartier: The benches in the courtyard fill up fast on a sunny day.
+ Sitting in front of the Palmenhaus above the Burggarten
+ On the Burgtheater's front steps
+ Aloft the Albertina terrace under the horseman
+ Sitting on the fountain's edge of the Neumarkt square
+ On a chair in the Volksgarten
14. Channeling your inner sporty spice and get active in one of Vienna's parks
Home workouts are great (are they really or have lockdowns made us believe this?) and they might have become some sort of routine these past couple of years.
However, being active outside in the sun, breathing in some fresh air and listening to the bird's twittering (which might sound like the birds cheering you on if you've got plenty of imagination) sounds a bit nicer than being trapped inside doing the same "10 minute booty burn" workout for the ninth time. So, get your slack-line out of the basement, grab your frisbee, or your yoga mat, and head to Prater or Augarten to move your limbs.
15. Having a spring fling, or fall in love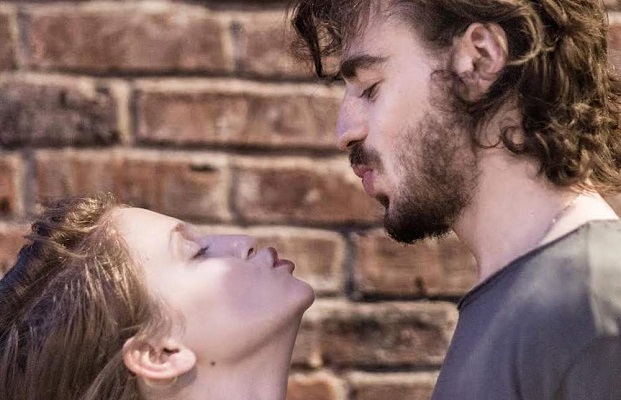 Spring is renowned as the season of love. When new life blossoms all around us, we tend to all get a little excited down in our fun bits. Look for love this spring and fall into it, have a passionate spring fling, or if you're already with the love of your life, fall in love with each other again.
Oh, and if you manage to get so far in your spring fling, here's a list of public places for a quickie. 
Nowhere in the city does spring put on a show quite like it does in the Setagayapark, which is known as Vienna's little piece of Japan. Full of an orchestra of blooming flowers, a stroll through this park will not only fill you with that euphoria that only spring can inspire, but also your nose will be struck by hundreds of different smells from the garden.
Get content that you love in your inbox!
Hey, look at this similar content we made for you